New Acquisitions
Cooma North Post Office Collection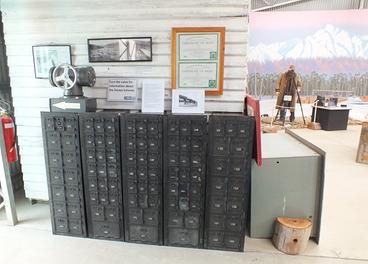 The Cooma North Post Office Collection comprises a sign from the front of the former post office building, two mail bags, a bank of private mail boxes, a cabinet containing keys to the private mail boxes, two stainless steel mail boxes plus seven small signs.
The collection has recently been acquired for the museum, thanks to the foresight of two of our long standing volunteers: Hazel Mackenzie-Kay and Glynn Kay of Cooma.
What does this collection have to do with the Snowy Scheme Museum?
Prior to purchase, the Cooma North Post Office Collection was appraised by our Honorary Curator, Denis Shephard. Denis reported that the Collection is historically significant because of its general association with one of Australia's largest national engineering and construction achievements; and for its specific association with housing established for workers on the Snowy Scheme.
Cooma North and Cooma East were two new settlements constructed close to the existing township of Cooma where the headquarters of the Snowy Mountains Authority had been established.
Construction of Cooma North commenced in 1949, with the provision of a range of different styles of cottages to accommodate its future residents.
The Cooma North Post Office Collection is likely to become part of a display featuring many aspects of family and community lifestyles during the construction era of the Snowy Scheme.